Somewhere along the line, as Christmas and Geli's birthday passed and my love for op shops dragged more and more bargains home, we ended up with way too many toys. I'm well aware this is not a unique problem at all - to the point that it's almost a default part of parenting. When you decide to make a tiny person, you're essentially signing a contract that you agree for your house to look, at some stage, like you just went into a Toys R Us and said "one of everything, good sir!" Still, we were at the point where we had to Do Something about the toys.
Geli doesn't actually play with toys that much, which I think is also a pretty normal one year old thing. She'd rather play with whatever forbidden sharp/poisonous/delicate object you're holding, or if that fails, with you. She'll look at her own toys for a minute or two, maybe carry something with her around the room, scatter them about. So when we had ALL THE TOYS lurking about, around 10 minutes after cleaning up the living room would look like a Fisher Price bomb had been detonated in the middle of it. I was starting to get the impression, too, that part of her lack of interest in any of her toys was because there was just too much stuff. She would pick something up, get distracted by something else and throw her current toy aside, get distracted again, etc etc. She also seemed to look past things that were stored in the baskets or bins; there was a lot of cool, fun stuff in there that I knew she liked playing with when it was given to her individually, but it never seemed to occur to her to dig in and get them out (even if they were in plain sight). It's like it all melded into one big rainbow blob for her.
I'd heard something about parents using a 'toy cupboard', where the kid gets 5 or so toys out at a time and can swap them out for a new one when they get bored. I thought maybe we could do something similar, and perhaps in the process if we cut the clutter to a reasonable level and kept toys hidden for a while in between showings, she'd be a bit more excited about them and really play properly.
So a grand plan was hatched. In the house, we have three areas which have toys - the living room, her bedroom, and the playpen in my study. I figured she should have five or so small-medium toys in each, plus 2-3 of her 'big' toys in the living room, where she spends most of her time. I dragged all the toy boxes and bins and baskets into the living room and... yeah, whoa. That is a shit ton of plastic: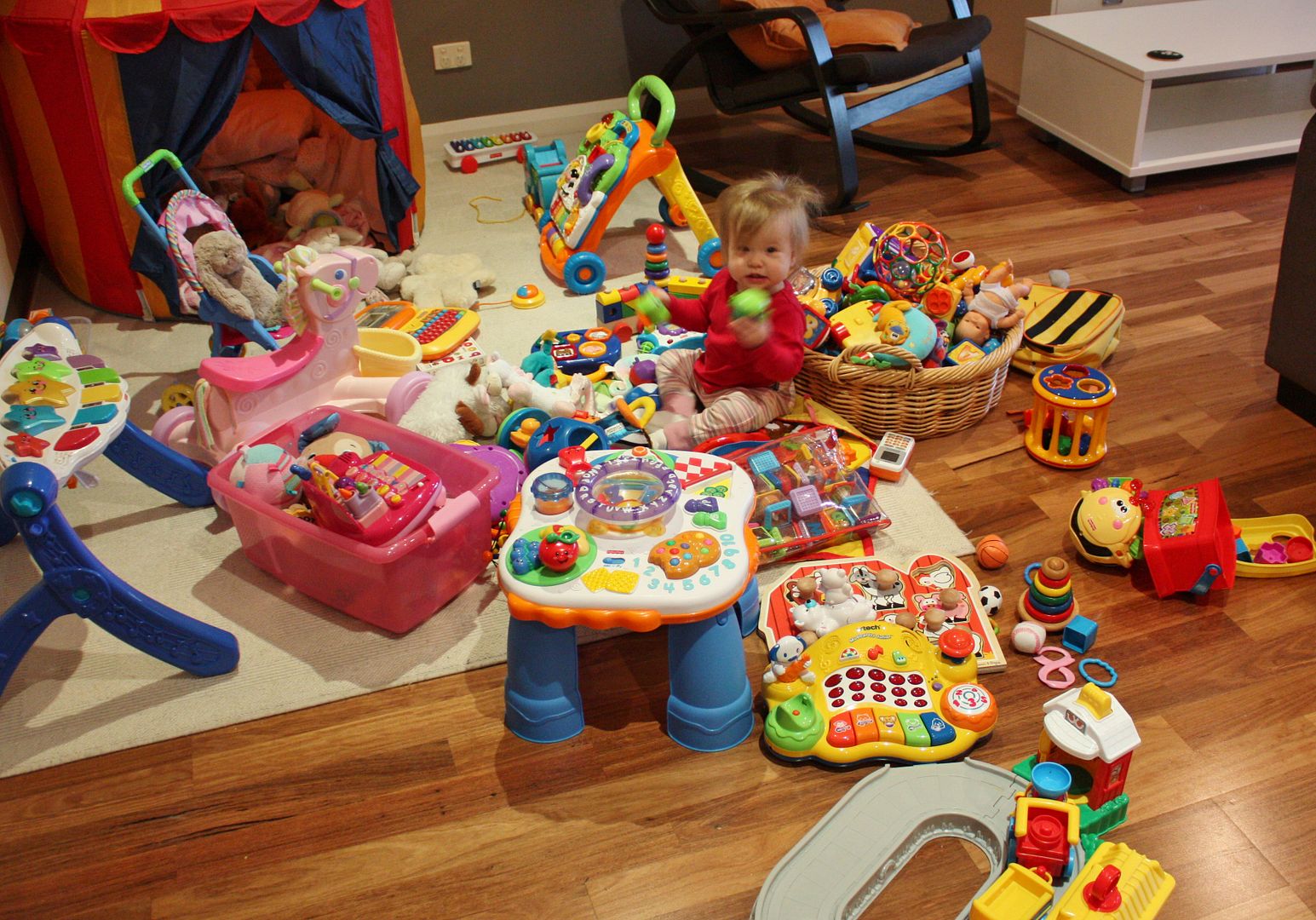 All of this was out somewhere in the house, which is pretty ridiculous. The playpen was so cluttered, the living room was covered, it was just a mess!
While Geli was frolicking in the midst of all that, I cleaned out one half of her built in robe. I got out these collapsible storage cubes my mother-in-law gave us, and got to work stashing all the extra toys away. I picked out a few toys for each box, and a couple of big ones for the living room. And voila! No more mountains of plastic in the living room.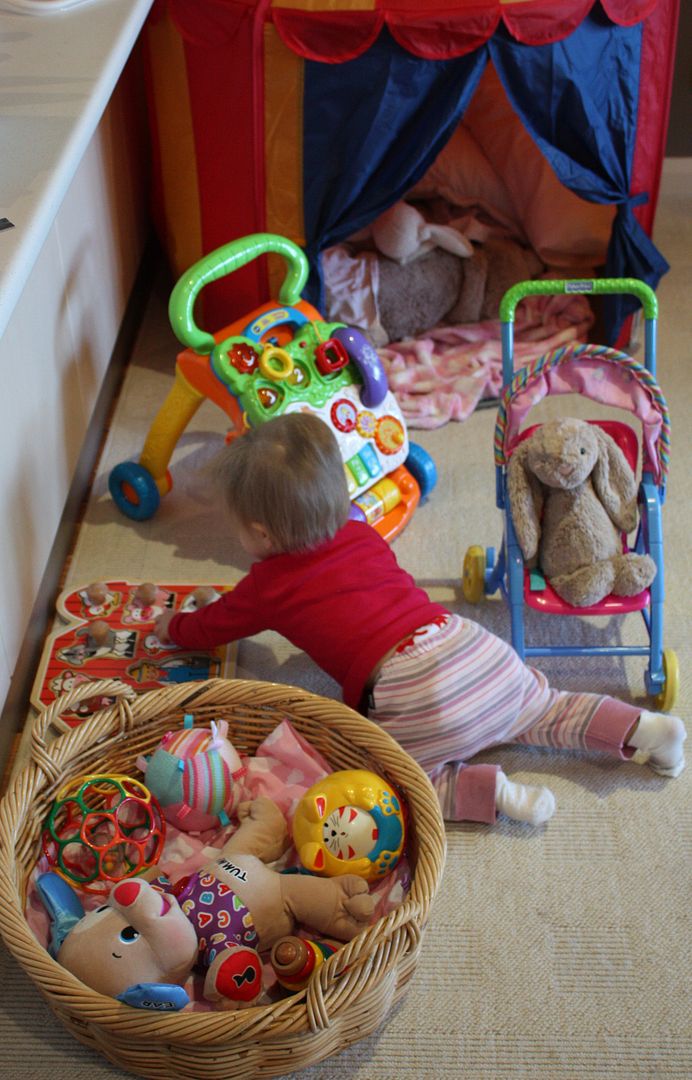 After trimming. This is all the toys in the room: walker, pram, puzzle, rolly cat, 2 balls, stacker and puppy.
Geli didn't seem to mind the massive playroom prune at all - I'd go so far as to say she barely noticed the difference. But I think it did have the intended effect; she actually *plays* with what's there now rather than just sifting through. She carries one item around longer and tries to puzzle out how to use them. Since I made this change, she's finally worked out shape sorters, she can build a tower of 2 blocks and she can put the rings on her stackers. This may well have happened anyway, of course, but I do think it helped her concentrate that she didn't have all this extra stuff out of the corner of her eye tempting her to constantly graze over the heap rather than concentrating on one thing for more than 2 minutes. Of course she is still one, and she'd still rather have dad's Android than her own toy phone, and she'd still rather be carried than left on the floor with her toys. But when she is playing, she's really playing.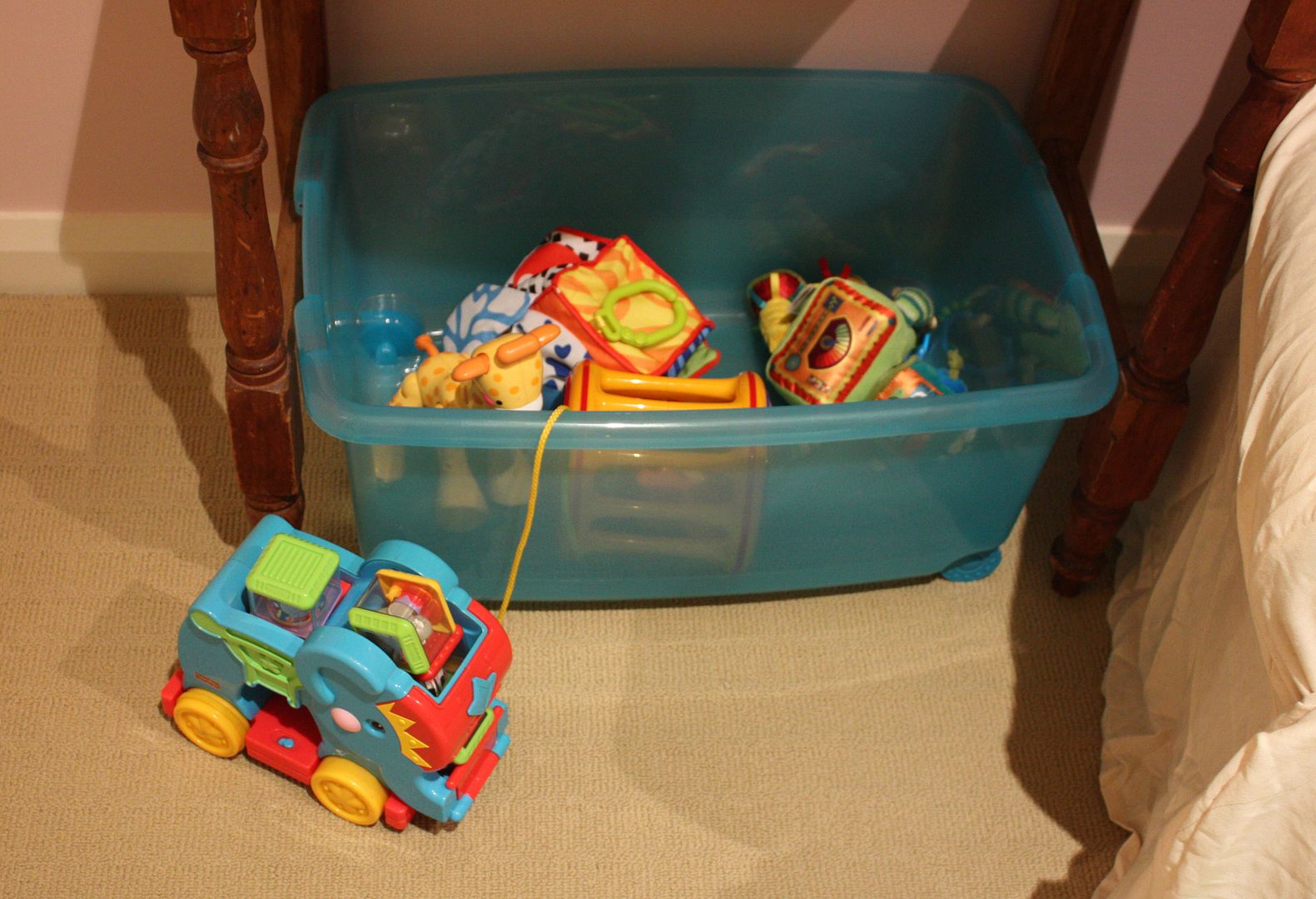 Bedroom toy box - elephant pull toy, shape sorter, robot, giraffe, plush box.
She loves when I rotate new toys in. If she hasn't seen it for a couple of weeks, it's suddenly exciting again - especially things which play music or make noises. She'll spend 20-30 minutes re-investigating the magic cube or her puppy, working out what each of the buttons does again. The same thing happens with her books - since we've gone the same route there, and she has 5-6 board books out on the bottom shelf and the rest stacked up on top, out of sight. A new book comes down and WOW! (Literally, she sees something exciting these days and she goes "wooOOOOOOOW!" - it kills me dead).
Playpen - two monkeys, magnetic bug blocks, xylophone, workbench.
I think thus far, then, Operation Toy Decimation has been a great success. A huge added bonus of course is that tidying up is now about 1 minute instead of, like, thirty. And we have less incidences of nearly killing ourselves tripping over a toy piano or a box of blocks in the dark when we come out to the living room for anything. Yippee!